Nathan Skoufis is the NASKA World Champion. 
The NASKA sanctioning body is the world's most prestigious, largest, most competitive and most sought-after title with only the most difficult tournaments being a part of the NASKA World Tour circuit. 
The World Champion is based on the competitor with the most success throughout the year, so consistency is needed to capture the title. Skoufis competed in NASKA World Tour Events in Chicago, Quebec City, Atlanta, Augusta, Miami, Toronto, Washington and Minneapolis all NASKA sanctioned tournaments. NASKA rates tournaments throughout the globe, for a tournament to be ranked by NASKA, it signifies it is one of the most prestigious tournaments in the world. 
NASKA also ranks competitors throughout the year, based on results at previous events. This is now his 5th NASKA World Title in as many years. Skoufis now holds 23 world titles. Since Skoufis won his initial World Title in 2007 he has claimed at least one world title every year. It was only a few months ago that Skoufis won the NBL World Title, in New York State.
Nathan is a current University of Guelph Student, while operating his own business, the famed "Guelph Family Martial Arts".
Nathan is the only Canadian Adult Male (18-29) that won a fighting world title in NASKA or NBL this year. 
With this world title, Nathan Skoufis has now won both NASKA and NBL world titles in the same year for a second time in his career, unifying the titles. Skoufis won the world NASKA title in two divisions and was the only Adult Male in the world (18-29) to win two world title fighting divisions this year claiming the light welterweight world title (150-159 lbs) and the welterweight world title (160-169 lbs) a historic accomplishment, his first time. 
Nathan will next be in action as he prepares to qualify for Team Canada for the 2020 world championships.
Nathan said following the announcement "This is really surreal for me and truly humbling. NASKA is the most prestigious martial arts sanctioning body, with so many great champions. As a young martial artist one of my biggest goals was to be a world champion in NASKA and to see this dream become a reality is still setting in for me. Martial arts have been life changing for me and such a journey that I would never change. 
As a child starting out I had many ups and downs in martial arts including self-doubt, fear and losses to name a few. All of the training sessions, tournaments, travel over the years have all been worth it. Martial arts taught me to persevere in everything I do, to never give up and always find a way to overcome the barrier and adversity. These are lessons that I have applied to every single area of my life. 
Martial arts have done so much for me and that's why I try to share it with as many people as I can through teaching. Martial arts taught me many things to name a few: modest, respect, confidence, discipline, self-control and indomitable spirit, it is a life altering activity that developed me as a person that facilitated growth physically, mentally, emotional and spiritually.
 It has also instilled to appreciate what we have and not focus on what we don't have. It has made me a better person and a more well-rounded individual. I want to thank everyone that has been involved in my martial arts journey and my life journey thus far from the very onset of my career I could not do it without the support of my family, martial arts family, friends and the motivation from everyone. Thank you to the entire community, your overwhelming support and love is greatly appreciated. The opportunity to represent this community on the global stage is something so special and something that brings me great pride, I will always give it my all. 
Thank you again everyone and all the best. Hopefully this achievement is a testament that with dedication, focus and belief any goal is achievable.''
 Skoufis is also a motivational speaker throughout the area helping youth and adults alike and is active in various charity organizations.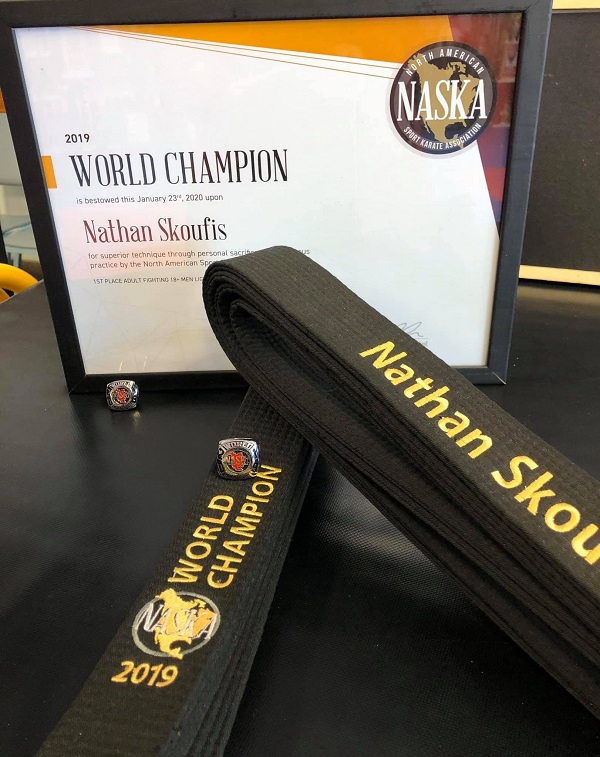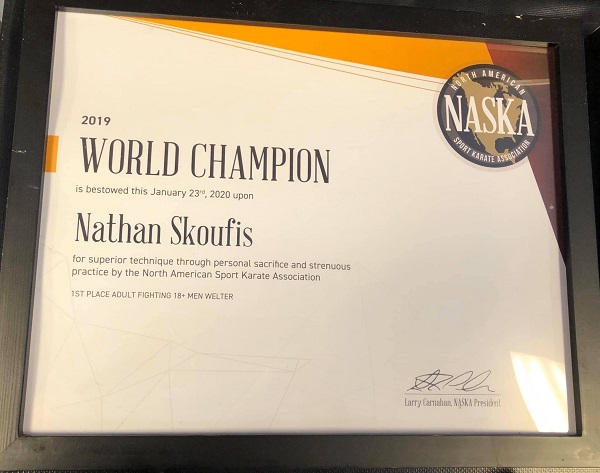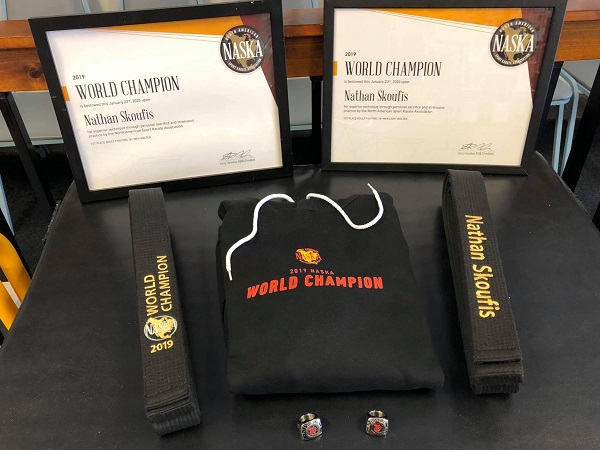 - 30 -