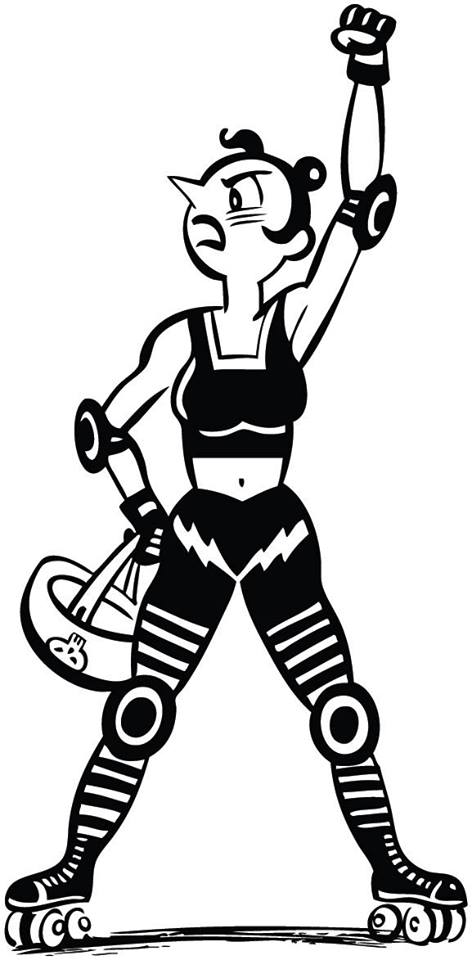 The R.C. Roller Girls Want YOU!
NOW RECRUITING for Guelph's women's roller-derby league!
Our league offers an introductory 11 weeks of training to teach you everything you need to join Our Ladies of Pain and start participating as part of a powerful group, on and off the rink.
Learn how to skate fast, fall small, give (and take!) a hit.
Oh, and stopping, yeah, stopping will definitely be covered.

Join the Royal City Roller Girls for a fun information session on what it takes to get into the fast-growing, exciting sport of roller derby. Then, sign up for a practice!
The league offers an introductory 11 weeks of training to teach you everything you need to join Our Ladies of Pain and start participating as part of a powerful group, on and off the rink. Learn how to skate fast, fall small, give (and take!) a hit. Oh, and stopping, yeah, stopping will definitely be covered.

Come because none of your other social networks have a hit button, stay because our participation badges are black and blue.

Info Session: August 27th , 7pm @ Ebar, in downtown Guelph. Get all your questions answered by the pros, and meet some of the superstars you'll be training and skating with. Register early at this session to guarantee your spot.

First Practice: Saturday, September 20, 9-11am. Come with your gear, some water, and all of your friendly. Leave your troubles in the parking lot (they can keep your fear company).

E-MAIL US AT FRESHMEAT@ROYALCITYROLLERGIRLS.COM TO GET YOUR INFO PACKAGE and MORE DETAILS