For Immediate Release -  July 17, 2023 
BuenRostro comes from the very south of Mexico City, in the borough of Milpa Alta.
They grew up listening to the elder Nahuatl speakers—with their deeply rooted traditions and customs—while also being exposed to the modern culture of a cosmopolitan city. These are the sounds that inspired them to experiment and create a fusion of their ancestor's traditional Mexican rhythms with global melodies. Their music is a combination of sones calentanos from Bajío, jarochos or huastecos; jarabes, pirekuas, cardenche songs and cumbias; sambas, rock, and jazz.
The members of BuenRostro played and danced those rhythms even before the inception of the group on October 8th, 2010. With time and experience their sound matured, resulting in their current "infusion" of different musical genres and styles. Although they're sometimes difficult to label, BuenRostro manages to find a deep connection with anyone who listens or watches them perform, no matter their age.
BuenRostro transforms with each song, defying the traditional sonority with an innovative uniqueness. In addition to their costumes, dances, and theatrical quality, they never fail to create both a musical and visual performance honouring their roots as well as the contemporary.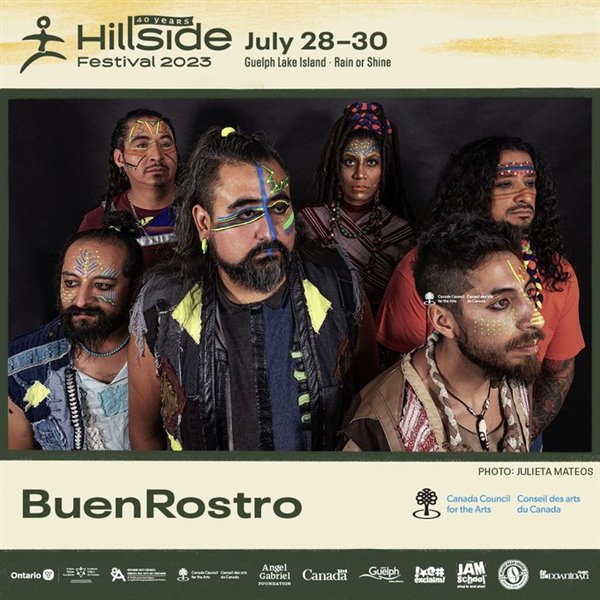 "Volcano" was inspired by the power of nature, by the force of life that manifests itself in elements such as water, wind, fire, and earth. This imposing life force inhabits the depths of a volcano. In Mexico, there is a great variety; many of them are dormant volcanoes, waiting for their moment. Humans currently sleep like an inactive volcano: automatons, drowsy, absorbed by routines, accumulating energy, dreams, and desires. Like a volcano, we have the power to wake up and rise again between lava and rocks, towards a different tomorrow, together in the re-evolution.
The single's arrangements reflect the song's global vision, proposing musical contrasts and variations. The intention behind the song's production was to include sounds from all over America; from voices that remind us of the north, to drums that send us to the south of the continent. In doing this, the song represents a people in constant resistance and revolution. Collaborating with Canadian JUNO-nominated, Julian Taylor, further establishes the song's message and reaffirms the ties that unite the continent.
Julian Taylor has been part of the musical fabric and landscape in Canada for over two decades. Taylor enjoyed a breakthrough year in 2020, when his second solo album, The Ridge which earned praise from press worldwide, and airplay from America to Australia to the U.K. "Volcano" will be officially released worldwide on July 14th, 2023.
BuenRostro released their debut album, Alterlatino, in 2015. Their second album, viBRa, was produced, recorded, and mixed by Latin-Grammy winner, Sacha Triujeque. In April 2020 they released, VIVO, which was recorded and broadcasted live from the "Julián Carrillo" concert hall for Radio UNAM's "Intersecciones" program. BuenRostro has since dropped two more singles ahead of their upcoming album, TIERRA, recorded and produced by Alejandro Colinas.
Their strong "infusion" has taken them to the most important stages in Mexico, including Teatro Esperanza Iris in Mexico City and Zocalo --the most important public plaza in Mexico City's downtown—as well as Festival Cumbre Tajín in Papantla, Veracruz. They've also toured abroad, visiting Colombia in 2015 and France in 2022. Adding to that list, BuenRostro will kick off their Canada tour in July of 2023.
"Volcano" is available from Slammin Media and distributed worldwide by Believe Distribution.
-30-