For Immediate Release - April 27th, 2021
This week the Guelph Tool Library (GTL) hit a significant milestone, completing its 10,000th loan to the community.
Co-founded by Susan Carey, Saba Saneinjad and John Dennis in August 2016,  the GTL has grown into a meaningful and necessary part of the community that contributes more than tool lending.  Saba Saneinejad states, "Starting the GTL and watching it grow has been nothing but joy and pride. Thanks to the passion and dedication of the wonderful steering committee members, Board of Directors and our volunteers, as well as support of our community, the GTL has grown into much more than just a library of tools. The mark of achieving 10,000 loans is a wonderful reminder of where it all started."
Guided by their mission of building community resilience by engaging its members in sharing knowledge, skills, and resources, the GTL has developed many initiatives over the years. Their popular Repair Cafés have volunteer "fixers" help and teach visitors to fix their broken items, supporting the model of a sharing economy that values people with repair skills, while ultimately creating a more innovative and collaborative community. 
The Seed Library is another project that inspires sharing by allowing the community to "borrow" seeds. People can take a number of seeds, grow them and hopefully contribute back to the library, and the community, the next year. Continuing their mission to be inclusive of the whole community, Sew on the Go is a mobile service offering clothing repairs to residents in retirement homes throughout Guelph. On a monthly rotation, a volunteer performs free on-site sewing repairs for residents, volunteers, and staff at the facilities. Another example of the GTL vision is the Zero Waste Festival, offering a vendor fair with products for creating a low-waste home and lifestyle. 
These are only some of the ongoing projects the GTL offers, all of which contribute to creating a more sustainable society and help challenge our consumption and waste habits, while demonstrating solutions and alternatives to these issues. John Dennis, recalls, "When we opened our doors in August of 2016, the idea of loaning out 10,000 tools seemed like an unachievable goal.  We knew we had a great concept as people would get excited about the idea and tell us that it made so much sense. That is still one of the main drivers for us, that people find joy in sharing and we can have a great impact with the work we do."
That impact has been evident during the Covid-19 Pandemic as the GTL has endured change and hardship like many small businesses, and find new ways to meet the needs of the community. This included moving to a new location in Old Quebec Street Shoppes to be accessible, adding programs like the Merry Mask Makers and Pin a Smile On, as well as moving to an online format for many of their workshop series.  
With a sense of pride, Susan Carey says, "We achieved 10,000 loans. That's 10,000 purchases of new items prevented in our small city.  And residents still got to do the job - pressure wash the deck, sew the seam, drill the hole. It just happened - 10,000 plus times - without consumption-related CO2 emissions. That's the benefit of moving from a pay-to-own model of consumption to pay-to-access. That's the circular economy growing in Guelph."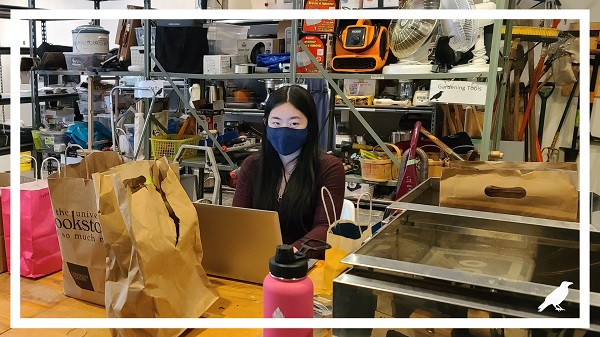 Local tool libraries help reduce the costs of improving and greening neighbourhoods, thereby transforming homes and community spaces into vibrant places that reflect a commitment to sustainability and environmental concern. Achieving 10,000 loans is an important accomplishment for the GTL, made possible because the people of Guelph believe in the value of sharing. 
-30-